Damasus, Barzeh:
"It was not till I spent several days in the Military Police command office, after being transferred from a security branch, My name was finally called! My injured foot was aching more than ever, and I could almost see my own bone through the wound, yet, a hidden thrilling joy swept me and my fellow injured prisoners to have our request to be transferred to a hospital accepted at last. The joy of being treated like a human being again."
"We were put in chains, and then we ranked up in long lines and started walking along the corridors leading to the yard, It was a long walk, because it was accompanied by constant beating by the guards. Out there, they paired us with the chains as well, and then we were stuffed in a big truck for the journey."
"The truck stopped, and got off to the sounds of intense fighting nearby and to ley eyes on what we only assumed to be the Hospital. A huge building surrounded with tanks, heavy machinery and military vehicles. We arrived at Tishreen Military Hospital."
This has been a small part of a testimony, made by a former detainee, to give an insight to Tishreen military Hospital, located in Barzeh district.
The hospital is under the responsibility of the Department of Defense, and it is the main military hospital to give medical care to Assad military and armed forces, followed by 601 Hospital in Mazzeh, and Military Police hospital in Al-Qaboun.
Before the Revolution, Tishreen Hospital has been a normal establishment, run by the government, and provided medical services to the public sector in general, and to the military body in specific. Now, it's a complete barracks, protected by several snipers on rooftops, a couple of tanks in the surrounding streets, and even a 23 automatic. A checkpoint protects the entrance, searching everything and everyone who intends to pass through the main gates.
Assad forces used Tishreen hospital to target Barzeh with mortar shells, heavy machinery, and even rockets. They also dug around the place, in fear of a sneak attack by the Free Syrian army, wrapping the protective methods by tearing down all houses and buildings within a short radius, as well as cutting down all trees, to keep a clear, empty land around it.
The Free Syrian Army carried out an attack on the hospital on 8/11/2011, where many Assad troops were killed. This attack resulted in the heavy reinforcements which made further attacks more difficult. Still, it was targeted by shells and rockets, launched from Barzeh or surrounding areas.
"Twenty to fifty bodies come into the morgue every day. Most of those bodies belong to military men, who were killed in clashes with Opposition forces."
Quoted from a report made by CNN, from inside the hospital, footage of the morgue and bodies were included, as well as several wounded.
Other reports were made about this hospital by foreign news agencies, showing how bodies were being smuggled through the backdoor, and the snipers lining the rooftops and targeting nearby civilian households.
Despite all those reports, and the fact that the Head of the Regime made many visits for the wounded there, the dark side of this Hospital was carefully kept hidden well away from Human Rights Organizations and international committees. The Ward of Detainees.
Detainees are transferred to Tishreen Hospital when they suffer serious injuries or chronic syndromes under torture in detention centers, and then get transferred to Adra prison to await trial. Mazzeh hospital also does that role.
The detainee suffers even more within the wall of this place, starting from the moment they walk through the doors. Inhumane methods and brutal torturing that lead to death on many occasions.
The least to say is the humiliation, swearing and dehumanizing of detainees that is being practices as if it is a type of treatment. One survivor tells how the nurse made them strip naked in front of anyone who would like to watch them being humiliated.
What is called a medical treatment in Tishreen Hospital is sanitizer and bandages, applied to the detainee in the roughest, most brutal way possible. Many times the detainee is ordered to tend to their own wounds whether they are able to do so or not, while death remains the sole treatment for many.
Damascus Media Office met with Adam, a former detainee who sustained a serious injury in his foot and ended up in Tishreen Hospital.
Adam starts his recollections: "I woke up one morning in a 3 by 5 meters cell. There were many bodies around, 12 of them were sitting or lying on beds, 23 others were lining the floor, some were already dead by then. Rats also took some space between us, not to mention the smell of death."
"I am alive! I am ALIVE! This was the first thing I said when I got around the shock, almost immediately I swallowed the rest of my sentence when the ward started hitting me again, saying "Don't worry, you will die like them."
Adam describes some aspects of life inside Tishreen, Nurses use detainees as labor men. They made wounded men carry the bodies of those who died under torture.
"We were sent to the same cell again, and we were ordered to carry the bodies of those who died and to put it outside on the road. They also told us to put a white sticker on their foreheads and to strip them off all their clothes. The bodies were skinny and disfigured, some were bloated and buffy. They were any age. We were ordered to give each body a number, we started at 73, 74, 75… a military officer walked behind us with a digital camera, taking a snapshot for the face, then he took a general shot showing all the bodies scattered on the ground. The bodies were finally stuffed thrown into a truck. This process happened many times."
Anadoul News acquired thousands of leaked photos for detainees dies under torture in Assad detention centers. Several photos showed a scene very similar to the description given by Adam. An official officer leaked those photos last year.
Adam closes this chapter of his life and says "I spend a week in that hellhole, until I got my transfer form, I lost all feelings including pain, I really lost the will to live. I am now free in body, but my mind is still detained within the haunting memories of the suffering and indescribable despair. My foot was even worse than before I came to hospital for treatment."
Families of victims of torture in Tishreen Hospital receive a form stating that their son died of "heart failure". Those who do receive this forged statement are indeed considered lucky!
And the murderer remains loose, and is unleashed upon many more victims, while the fate of thousands of detainees is yet to be found.
Marks of torture on Adam's feet after he left the hospital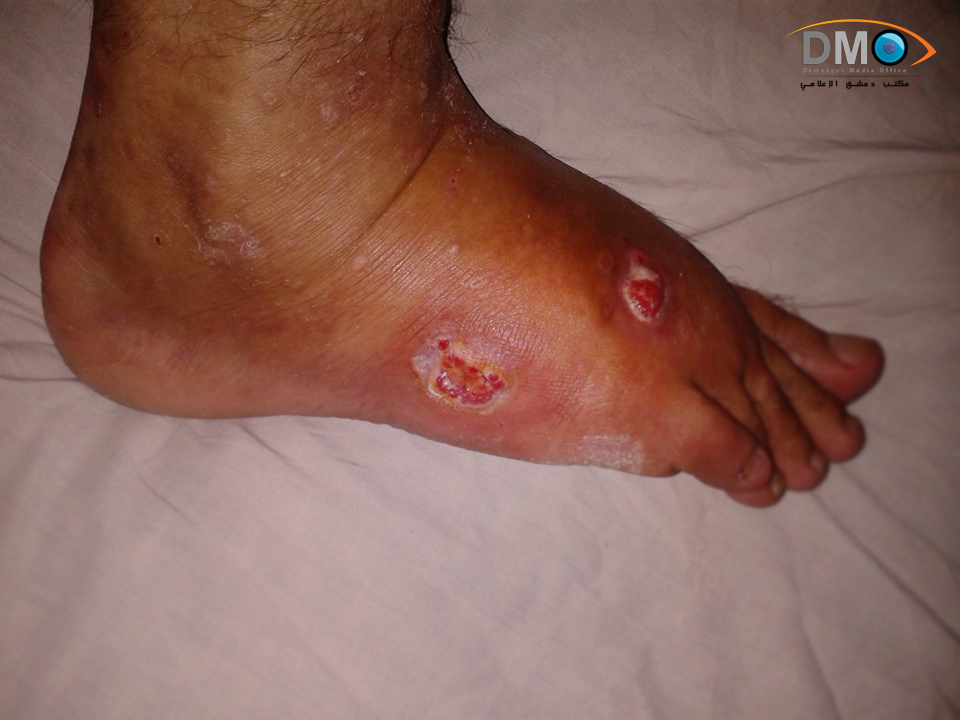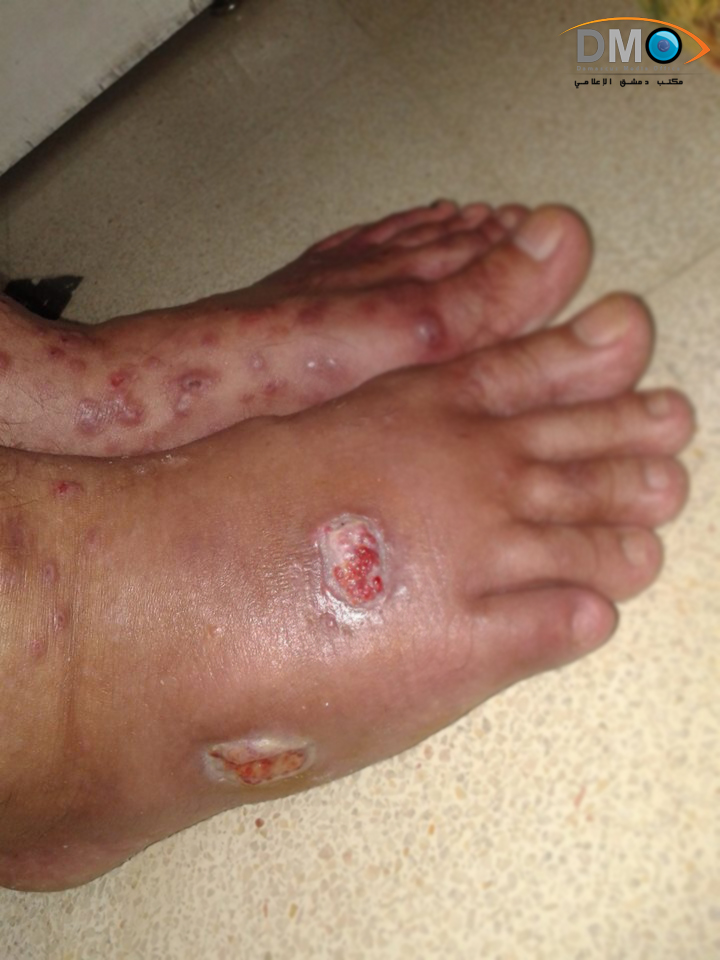 Tanks around Tishreen Military Hospital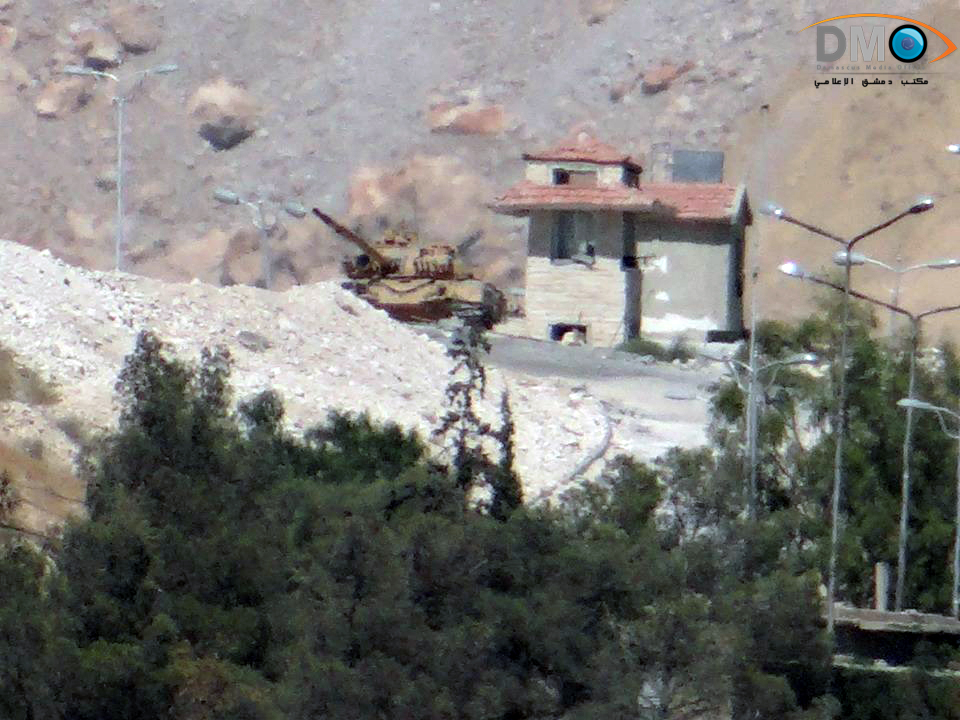 Damascus Media Office