Damascus, Damascus Suburbs (Rif Dimashq) :
It's been two years since Ahmad was detained by Assad regime in an unknown prison, from which his Mother, Um Ahmad spent a year and six month going from one detention center to another, and from a security branch to another, with so-called middle-men in between, not even sparing political figures or lawyers in hope of finding anyone who could help her get her son back home.
"I paid sums of money to many middle-men who claimed they have good connections and sufficient power in security branches enough to free my son. Soon, I spent well over 700 thousand pounds in vain, only to realize that they all have been telling all sorts of lies for one purpose, easy gain."
Those painful 18 months have taken their toll on the poor mother, draining her of any hope to know where her son is. But now she knows, she just found his face among the leaked photos of bodies of detainees, who died under torture in Assad detentions centers.
"I kept searching for three days, photo after another. Those photos have tortured me on many levels." Says Um Ahmad. "I recognized him! His face was disfigured, but I recognized him. I finally made quite sure when I found an unmistakable mark in his body." she painfully continues "I wished I never knew, I wished I kept looking for him everywhere than to see his picture, lying down like that! I wished I never knew."
Um Ahmad is one lady among thousands of others with stories of real tragedies lived every day by families in thousands of homes, who also are going through great pain after finding their loved ones among those bodies.
Documentation Associations, Local committees, coordinations and activists are all putting every effort into identifying the bodies in those photos which have reached around 6700 photos so far, classified by the related detention center. This is proving to be a very challenging task.
Abu Akram, A member of the Media Office in Al-Qadam district, is participating in the documentation process.
Abu Akram explains: "The identification process is based on a team of activists and trusted civilians in the district, locals in there know each other very well, which is an advantage that cannot be found in many places in the Capital. When a team member takes interest in a certain photo, they share it with the rest of the team. We carefully try to locate distinctive marks and then try to determine whether it might be someone from the district. Then we try to get a photo of people we short listed for final identification. This way the circle is narrowed, and we would be able to be certain, or discard the photo otherwise.
Almost all detainees from Al-Qadam are located in one branch; this is where we pool our efforts."
He adds, "We are facing some difficulties, some photos show faces we feel are familiar, but whose visages have changed a great deal due to torture or hunger. Some faces are labeled in doubt because distinctive marks might be hidden by injuries, or might not be recognized at once unless a close relation confirms them, some remained unknown."
"On the other hand, we easily identified several faces, they were not buffy or bloody or disfigured; which is evidence that they were killed almost at once, or within a week or two of their detention."
Abu Akram continues; "Abu Suhaib Al-Dimashqi, a member of Al-Qadam Coordination was identified among the dead. His features remained the same; his face, his hair, and even his shaved beard were almost the same. It's proof that he was killed at once".
Sarah, a member of the Syrian Research Center, tells her side of the story: "All of us are working on the documentation and identification process, but we are lacking interaction with some cities and provinces. Damascus and the Suburbs hold the largest number of documented victims, followed by Homs, Daraa and Deir Azzour; while we were not able to document anyone from Hama, for instance."
She also explains: "One of the hardest issues to deal with is to make a definite identification. There were cases where more than one family claimed the same photo to be their son, and comparing happy old photos with the not-so-clear snapshot was truly difficult. We would not be sure unless we consult a certified Medical Examiner. We are in contact with Documentation teams in the cities, and we mostly deal with friends and families of detainees."
And along the same line with Abu Akram, Sarah adds: "Some photos came out as a real surprise! Photos of victims killed in a very short time after their detention, even though many middle men and underground resources have been comforting their families that their son is alive and well and oh his was to be released."
"One victim had his photo taken wearing the same clothes he disappeared in three years ago, and looking just the same as he did then with no torture marks or wounds, which confirmed that he was killed on spot. His family stated that they have paid well over 3 million pounds for middle men, who swore over and over that the boy is alive."
The fact remains, that the hardest task of all, is finding the right words to tell a mother or a father that their son is dead; or having enough courage to tell a lady that her husband has finally been found, among those photos.
And even after they do confirm the identity of their lost loved one, families refuse to give further information, in fear of Assad regime.
According to the latest list, the number of documented victims in Damascus and its suburbs has reached 448 till the moment of writing this piece
Al-Qadam district (Damascus) took first place with 72 victims; followed by Darayya (Suburbs) came second with at least 61.
Qatana (Suburbs) reached 45, Zabadani (Suburbs) listed 34, and around 30 in Al-Tal (Suburbs).
In the Capital, Dummar went well over 40 identified victims, while Kafarsouseh listed 29.
The Suburbs suffered the heavy loss of 25 in Artouz, 9 in Mouaddameyyeh, 8 in Kesweah and also 8 in Kanaker, while 5 were found from Muqalibeyeh, and 5 in Zakiah.
Palestinians also suffered their losses on the hands of Assad regime, sharing the pain of losing around 38, 11 of which were documented in Al-Yarmuk Camp.
Here is a detailed list of documented figures so far: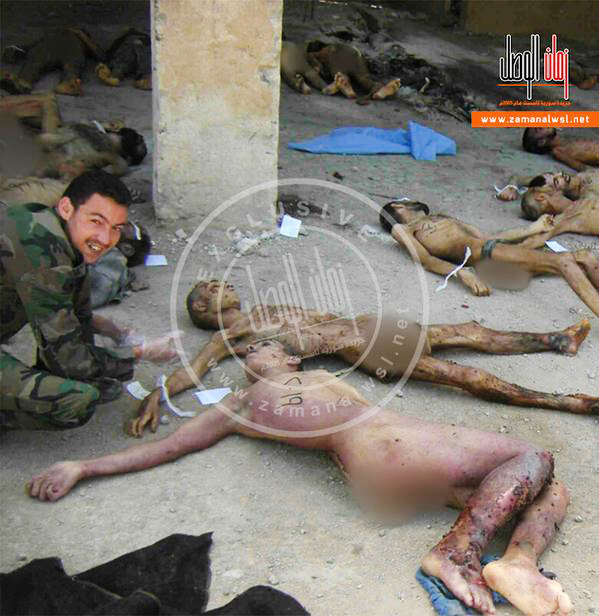 Mazzeh: 5